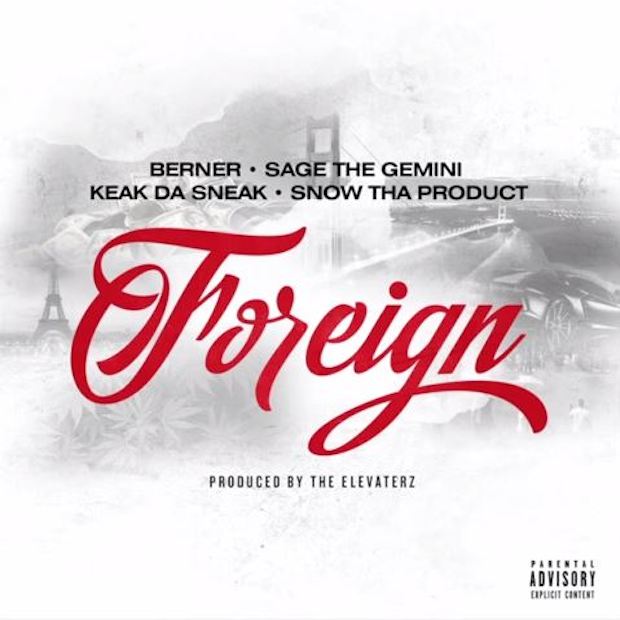 "Foreign" is the lead promotional street single from American rapper and independent recording artist Berner's upcoming debut studio album.
The Banger of a Track features American rapper and recording artist Sage The Gemini, American rapper Keak Da Sneak, and last but not least – American female rapper and recording artist Snow Tha Product.
The song premiered on August 20th 2015, via Berner's official Soundcloud. It was produced by The Elevaterz.
After compilation mixtapes, Urban Farmer, Drugstore Cowboy and this year's 20 Lights – Berner is definitely the one recording artist and rapper to keep an eye out for. The independent recording artist Berner calls home Taylor Gang Records is also home to artists such as Chevy Woods, Project Pat, and Ty Dolla $ign among many other artists.

[soundcloud url="https://api.soundcloud.com/tracks/220012074″ params="auto_play=false&hide_related=false&show_comments=true&show_user=true&show_reposts=false&visual=true" width="100%" height="450″ iframe="true" /]
Listen to: Berner – 'Foreign' ft. Sage The Gemini, Keak Da Sneak, Snow Tha Product
Lyrics for Berner – 'Foreign' ft. Sage The Gemini, Keak Da Sneak, Snow Tha Product
(Verse 1: Berner)
Yeah, where the whole damn bay at?
06, H-Town with the gray pack
New bands come found, like a Maybach
I smoked out with my luv, bro, asap
Get yo mind right, baby, that's a downgrade
My new bitch get money outta town, babe
New sneakers, no 2-seaters?
I'm shotgun with a dirty 2 liter
She like to work the stripclub, don't she?
Bar is too crowded, I'mma hit the Pink Poney
I'm drunk off wine, shout at E-40
Earl Steve taste good with the OG, homie
Yeah, this bay bizz, I'm in the space ship
My lil homie keep the cannon, get yo face lit
Huh, lemme show ya how the cake flip
I got rich with the Asians
Nay, sham, blue, cherry pop wire real cookies turn blue
Y'all gettin' no money and I feed my whole crew
Broad pinned outside, I dunno bout you
Tell yo baby momma hi, I'mma call later
When she come on from work, she give me all the paper
It's a bay thing and I ain't ever buy the scraper
I been in European whips, fuck all my haters
Young Bern

(Hook)
I'mma foreign man, foreign bitches foreign things
I got overseas and get foreign bands
If you ain't talking money I don't understand
If you ain't talking money I don't understand
Playas in my left, I got the broad in my otha hand
I got work in the mother land
If you ain't talking money I don't understand
If you ain't talking money I don't understand