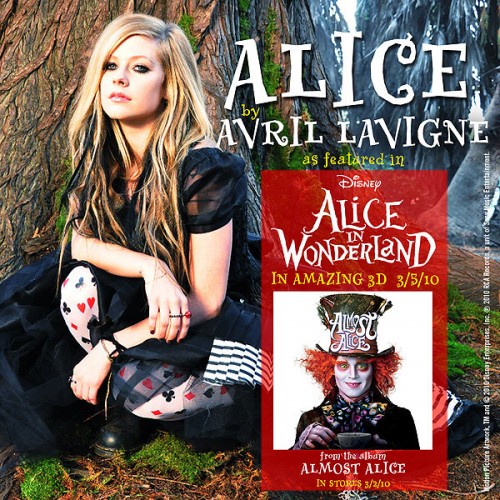 Alice is an alternative rock/Acoustic rock song written and performed by Canadian singer/songwriter Avril Lavigne for the soundtrack to the 2010 film Alice in Wonderland, entitled Almost Alice. The song is a mid-tempo ballad sung from the perspective of the film's lead character, Alice. According to Lavigne, she wrote the song after asking Disney executives and director Tim Burton for a role on the soundtrack. The song was produced by Butch Walker and mixed by Lavigne's former husband Deryck Whibley.
It was first played on radio on January 27, 2010, when Lavigne appeared on Ryan Seacrest's radio show, On Air with Ryan Seacrest. The soundtrack will be released on March 2 while the music video for the song is scheduled to debut in early February. "Alice" serves as the first self-written song by Avril Lavigne in her career and her first post-divorce single. The video will be available to preview on MySpace as of January 31st.
Lavigne shot the music video for "Alice" on January 26 and 27, 2010. The video is directed by Dave Meyers and is expected to be released in early February. She appears in the video running through a forest wearing a black dress.
Lavigne, designing clothes inspired by Alice in Wonderland for her Abbey Dawn line, told Disney executives she could write a song for the film's soundtrack. Director Tim Burton agreed, and Lavigne "wrote the song immediately" on her piano. Lavigne described the song as "a little darker" and confirmed the lyrics, "trippin' out, spinnin' around, I'm underground, I fell down."
Trippin out
Spinning around
I'm underground
I fell down
Yeah I fell down

I'm freaking out, where am I now?
Upside down and I can't stop it now
Can't stop me now, oh oh

I,I, I'll get by
I,I, I'll survive
When the world's crashing down
When I fall and hit the ground
I will turn myself around
Don't you try to stop me
I,I, I won't cry

I found myself in Wonderland
Got back on my feet, again
Is this real?
Is this pretend?
I'll take a stand until the end