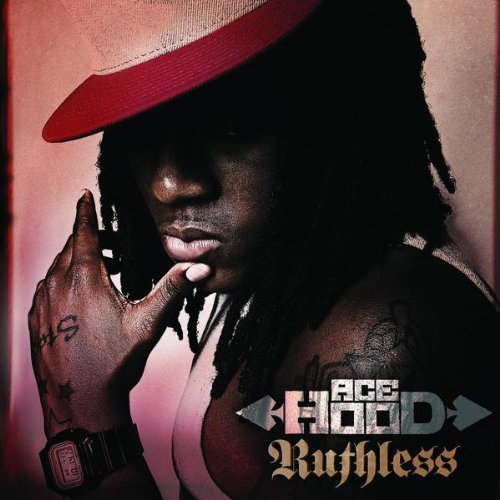 You might remember Ace Hood from his previous singles "Cash Flow" featuring T-Pain & Rick Ross, "Ride" featuring Trey Songz, or "Stressin" featuring Plies. This time Ace Hood is once again working mainly with producers The Runners, The Inkredibles and is featuring guests Rick Ross, Akon, T-Pain, Jazmine Sullivan, Jeremih, Lloyd, The-Dream and others.
"Get Money" featuring Rick Ross is a song produced by The Inkredibles, and this song can go pretty hard in your stereo. The flows are real nice, and Rick Ross is on a new level and Ace is right up there with him. Excellent song and probably my favorite on the album. Ace Hood and Rick Ross switch on and off verses on the chorus, and it comes out great. This is a great opening track and something you'll remember.
"Loco Wit The Cake" featuring / produced by Schife, can probably safely be considered one of the few Southern Bangers on the album. It has it's moments but it's just an average track, nothing out of the ordinary, but it is listenable. It is currently slated to be Ace Hood's second single (probably "Street single") I personally believe there are better options for singles, but they'll do what they do – video is slated to be released.
"Born an OG" featuring Ludacris is produced by DJ Nasty & LVM, and definitely what you might expect from Ludacris. Great overall song and something you'll definitely be remembering. Ace Hood has got it, and Ludacris hasn't lost anything – he still has what you remember about him.
"Overtime" is the first single, featuring Akon & T-Pain and produced by The Runners. The song is quite a hood anthem, DJ Khaled-like. "It's do or die.. gotta go put in Overtime. I'm gon' put it on the line, i gotta wait so Imma grind, Imma put in Overtime…" Really nice banger from The Runners and nice verses by all three. Nothing new making a hit with Akon & T-Pain, this time it's just that quality you might expect between the two.
Ace Hood / "OVERTIME" videos featuring Akon & T-Pain
"Champion" is the third single, featuring Jazmine Sullivan and Rick Ross, is a song produced by The Runners, and the GREAT hook is sung by Jazmine Sullivan. Great verses by both Ace Hood and Rick Ross and a banger of a track. Simply can't get this one out of my head.
Ace Hood / "CHAMPION" video featuring Jazmine Sullivan & Rick Ross
"Love Somebody" featuring R&B singer Jeremih (you know, "Birthday Sex" Jeremih), is a track produced by The Runners. The song mainly has Jeremih on the hook and it's a very nice listen. It is probably one of my favorite listens on the album. "If you love somebody, and no body else matters say  yeah" The bass in this song is crazy, just crank it up and you'll see what I mean. Really great track and overall song.
"Mine" featuring The-Dream, is a song produced by Tricky Stewart & The-Dream. It is the typical The-Dream material, sounds like it's straight off Love vs Money. But it's one hell of a track, it has that hook that has you singing it for months and months. Ace Hood holds his ground suprisingly well with The-Dream.
"Wifey Material" featuring Lloyd is a great R&B Lloyd-track, that we all know and love. The track is produced by The Runners, and like last album – Lloyd takes the hook to make it a R&B hook, greatness is achieved with both Lloyd and Ace Hood on a track together.
"Bout Me" featuring Ball Greezy is a song produced by Cardiak. It's a regular banger, sort of early 90s "Snoop Dogg" sound with a southern spin on it.
Ace Hood / "BOUT ME" video featuring Ball Greezy
THE HYPE FACTOR: Evaluation 4 out of 5
Ace Hood's "Ruthless" is in stores June 30th 2009,
make sure to pick up a copy if you're enjoying it!