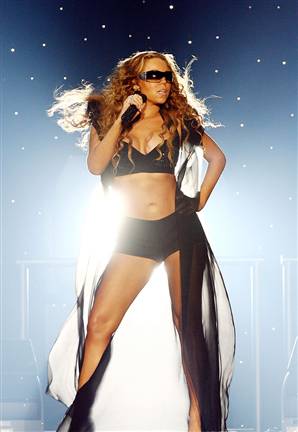 Blender magazine has recently reviewed Mariah's new single "Touch My Body" that I'm LOVING. Here's what they had to say:
"WHO: Mariah Carey
WHAT: "Touch My Body"
WHY: While Mariah's new album, E=MC², is set to be one of the year's biggest, this introductory single is downright subtle – yet effective. Co-written by The-Dream and produced by Tricky (a.k.a. the dudes behind "Umbrella"), "Touch My Body" rides the same never ending snap blueprint T-Pain used to brilliant effect on last year's feather-light super hit "Buy U A Drank (Shawty Snappin')."
You won't mind hearing it on the radio and TV every 10 minutes for the next few months – this thing sooths as it repeats. Here, Mariah is focused on one thing: "Come on and give me what I deserve and touch my body," she coos. And make no mistake, she wants to be touched on her terms only: "Cause if you run your mouth and brag about this secret rendezvous, I will hunt you down."
She even thinks about the possible ramifications of her touchy tryst when she sings, "If there's a camera up in here then I best not catch this flick on YouTube" (nevermind the fact that the video in question would never get past YouTube censors). A pop genius making genius pop.
Rating: 4/5."
I'd really have to disagree with the 4/5. This quite possibly is up there with my favorite Mariah song. Just give it a few more listens if you're still not feeling it.. you will soon hear it every other song on the radio.